House Removals Services
Get professional house movers from fully insured removal company.
House Removals London
House Removals London – Every London home removal is strictly individual.
This is the reason why at PT Removals Ltd we have an individual approach to all of our clients. If you choose to use our professional services, we will make sure to create the perfect conditions for the safe transport of all of your belongings, even the most fragile and breakable items from your home,
We will provide you with the needed transport and loaders. We can also help you with packaging, mantling and dismantling of any furniture if needed. The transportation of your personal belongings, furniture and household appliances will be done quickly and easily if you trust the professional team of PT Removals Ltd. We will make sure to fill all of your requirements and make you feel as comfortable as possible. Our well equipped for removing services vehicles, our experienced staff and the individual approach we have to each of our clients will make your moving a joyful experience!
Using the services of a professional company for the moving of your home is your best option as it solves all of your problems! During the removal, the staff from PT Removals Ltd will pack all of your belongings depending on their function and type (kitchen appliances, mirrors, books, computer and household appliances) and will professionally assemble and disassemble your furniture excluding any risk of damage. If you would like to arrange your home removal all you have to do is call us on 020 8226 4979 or fill in a Get a Removal Quote form. You can also chat online with one of our operators . We will ensure we provide you with all the information you need and answer any questions you have as quickly as possible.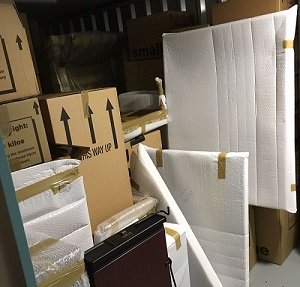 Mantling and Dismantling of Any Furniture
If you have to put together office equipment, furniture or any other kind of equipment – we are ready to help. The many years of experience, through which we had to face many logistic tasks related to providing mantling and dismantling services, help us feel confident that we can solve even the hardest of them. We have the needed technology and tools for these specific tasks and the knowledge and skills to complete them.
Price list for Removals Services
PT Removals Ltd provides transport services using cargo vans of different volumes – Luton and Box vans. We will choose the most suitable van for your needs. All of our vans are provided with the most necessary packing equipment: boxes, bubble wrap and duct tape. They are also specialised for the transport of furniture, technology and any other kind of items, which are supplied with siege works to insure a safe and secure transportation. We have an individual approach to each of our clients. If you would like to receive a quote please contact us by telephone or fill in one of the forms on our website.
Price for a Transit Box Van - 250 cubic feet (7 Cubic meters)

Price for a Luton Van With Tail Lift - 620 cubic feet (16 cubic meters)
Man and a Luton Van

£50 p/h

4 Men/2 Luton Vans

£115 p/h
NEW OFFERS !!!

NEW OFFERS !!!

Fixed Price per Half Day.
NEW OFFERS !!!

NEW OFFERS !!!

Fixed Price per Day.
The prices for removals outside of London and anywhere in the UK are calculated according to distance and number of men and vehicles needed.
Please contact us via email or phone 020 8226 4979 to obtain an accurate quote.
The price for removals outside of London is always fixed and not based on hourly rates.
We reserve our right to require a small deposit which is usually taken by card over the phone upon booking.
The amount depends on the destination (London, UK or EU) and the final price of the removal.
You can pay by cash, cheque, bank transfer or card on the day.
(Please note that if you pay with credit/debit card there is 3% bank transfer fee).
Any parking and congestion charges are a responsibility of the client.
All of our prices include VAT and insurance of your belongings for up to £20,000.
We will tailor our services according to your specific requirements and spare time. The final price will depend on how much work there is to be done plus transport and recycling center charges.
Min

£70

Cubic yards-1.5. Free Labour- 10 min.

1/4 Load

£100

Cubic yards-3.5. Free Labour- 20 min.

1/3 Load

£140

Cubic yards-5.3. Free Labour- 30 min.

1/2 Load

£170

Cubic yards-8.0. Free Labour- 40 min.

3/4 Load

£240

Cubic yards-10.5. Free Labour- 50 min.
FULL LOAD

ONLY £290

Cubic yards-16. Free Labour -60 min.
Оur friendly consultants will be happy to answer all your questions.